Operation New Life April 23 - October 16, 1975
---
Cover commemorating the 5th Anniversary of "Operation New Life" At the time - the Proteus was considered "The Flagship of the Guam Navy".

Early in April 1975 it became apparent that South Vietnam would soon fall to the North Vietnamese; so the U.S. Government notified the Governor of Guam that they intended to use the island as a transit camp for the processing of evacuees. On the afternoon of April 21 local authorities learned that a Flying Tiger Airlines plane was en route to Guam with 99 passengers, the first trickle of an impending flood of humanity. Two days later the deluge began in earnest as "Operation New Life" officially opened and MAC transports began to disgorge up to 5,000 evacuees a day.

While the first evacuees were settled in hotels vacant private apartments scattered throughout the island, this was clearly an inadequate long-term solution. Military forces began "large scale" housing projects - ranging from the rehabilitation of old and unused buildings to construction of new mass housing facilities. "Tin City" was centered around vacant troop barracks on Andersen Air Force Base. Many of these buildings were old "quonset huts" left over from World War II and Viet Nam eras. Air Force personnel cleaned and outfitted those buildings such that they along with a good many tents pitched in the area would eventually house several thousand people.

Camp Asan, a former civilian contract employee housing camp, was reopened by Marine Corps personnel in the village of Asan. These buildings had just recently been condemned - but with thousands needing shelter - even these meager and run-down facilities were used to house a few thousand people. About a year later - Typhoon Pamela destroyed what was left of the camp.

On Orote Point within the U.S. Naval Station, Guam, scene of some of the most intense fighting during the liberation of Guam in 1943, U.S. Navy Sea Bee crews began clearing 500 acres of brush and preparing "pads" to accommodate thousands of tents.

The call went out from COMNAVMARIANAS that help was needed - all commands that could spare people were requested to help as much as possible. Among the many commands responding with bodies was USS PROTEUS - the Fleet Ballistic Missile Submarine Tender which was a long-time "resident" at Polaris Point, inner Apra Harbor. Captain Greer left only an absolute minimum crew aboard that would be required to get the ship underway in the event of an emergency; plus some additional specialists required for assistance to the submarine(s) in for refit- and the remaining 1000+ man crew and officers reported to Orote Point.

On May 7 three ships sailed into Apra Harbor with nearly 15,000 evacuees aboard and two days later three more ships disgorged an additional 8,000 Vietnamese. In all, more than 111,000 evacuees passed through Guam, a number that exceeded Guam's civilian population at that time by a least 20,000. While most of the evacuees continued on to the United States, some 500 chose to make Guam their permanent home. Operation New Life was officially closed on October 16, 1975 although it was not until January 15, 1976 that the last transient evacuee left Guam.
One of those ships arriving with refugees. From this distance - there doesn't appear to be that much unusual about the ship.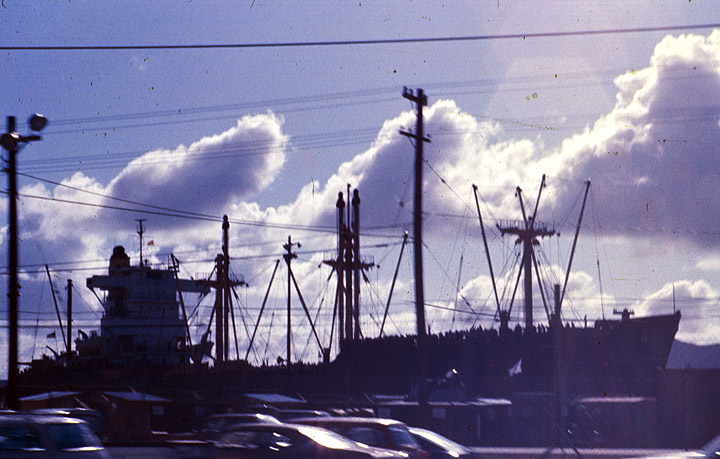 However a closer look reveals that the decks were absolutely and literally packed with human cargo - such that people reported that they had been standing for the majority of the voyage - in such desperate and squalid conditions such that when they had to relieve themselves - many had little choice but to go where they stood. One quickly learned to stay upwind of these ships as they arrived - at least until they could be washed down.
Orote Point is the site of a WWII Air Strip - which had long ago been abandoned to the Guamanian jungle. The paved main runway was the only land not overgrown with shrubs, bushes and trees. An area covering 500 acres straddling the old runway was bulldozed and cleared in hours.
Tent "sites" were measured off and marked by Sea Bees, a tent "kit" would be dropped at a site - and a "Tent Team" would move in and start work.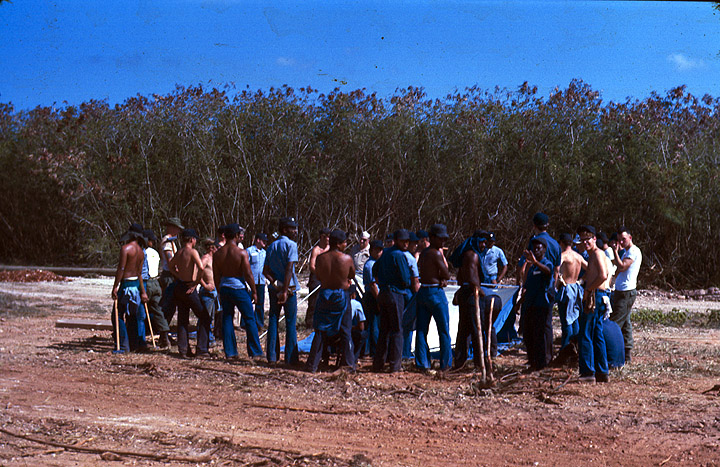 Once a "pad" area was smoothed - the tent's frame was assembled...
canvass fastened to the frames - and another "home", "office", mess tent, etc. would rise.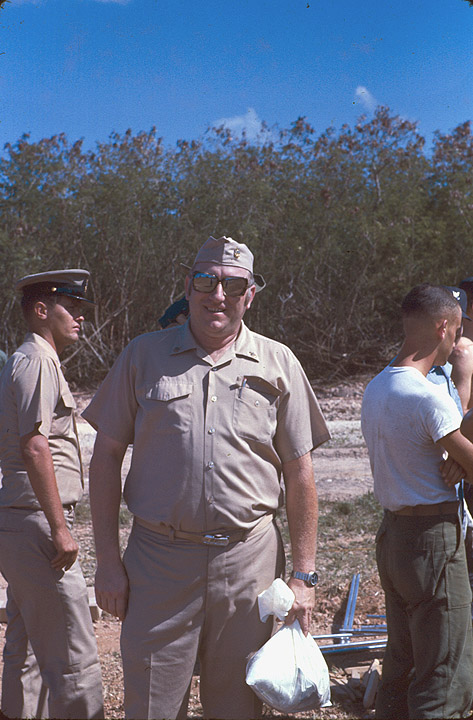 As can be seen here - while not required to be part of the "working party", USS PROTEUS Senior Chief Petty Officers and Officers put their time in as well - usually a chief or officer was "in charge" of a Tent Team... but in reality - wound up working as just another team member. Putting up tents isn't rocket science - but in Guam's typical 85 degree 90% humidity climate - the physical toll can be serious. Here Senior Chief Electronics Technician Robert Dibben is about to relieve another chief as one of the team leaders (needless to say - he wasn't this neat and tidy in a couple of hours!). Crews started working around the clock in shifts.
The "city" starts filling in - with housing tents and sanitation facilities.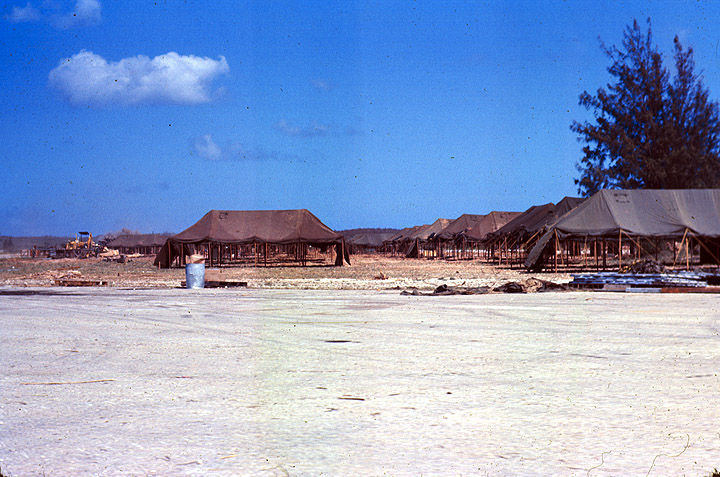 Besides housing, offices for administration work, medical facilities, supplies and materials warehousing and distribution, and of course kitchens and eating halls all had to be built and equipped, stocked and made ready.
Supplies arrived by the truckload. Thousands of everything from rolls of toilet paper to towels and blankets - chairs, tables, forks spoons, etc. - everything that 25 -50 thousand people would need - who have little but the clothes on their backs when they arrive. When Tent City was first envisioned - it was thought that the number of evacuees so housed would be up to 50,000. Reality proved the number closer to 75,000 before it was all over.
As the "administrative" facilities started shaping up - various workers - many volunteers - began to arrive to help. It was obvious to most that Health Care workers and Food Service workers were going to be stretched passed reasonableness - but even the Clergy would soon find themselves overwhelmed.
And sooner than later. Mid afternoon - this convoy roars up the old runway - which now serves as "Tent City's Main Street". Note the Yellow Bus...
Ah... Busses.
The floodgates have opened - the first of nearly 75,000 people arrive to take up residence.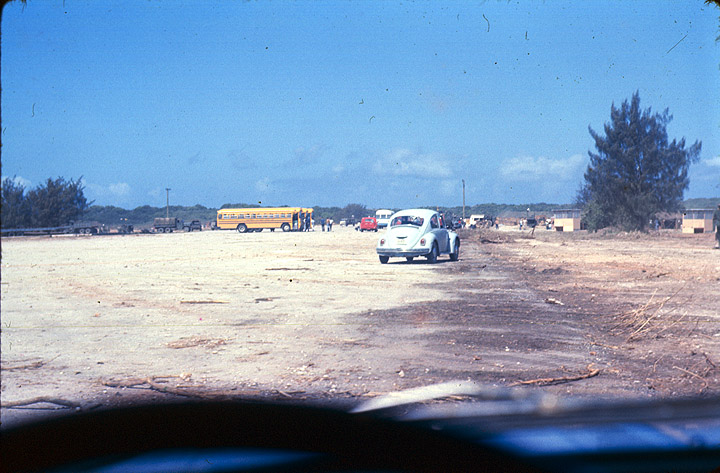 The first of those fleeing the Communist takeover of Siagon step once again on free soil - and the place many will call home for the next several weeks to months.
Some come by way of the USS Midway - CV 41. Notice the "Boomer" (Fleet Nuclear Missile Submarine) coming into port... NOTHING changes the schedule of the Boomers.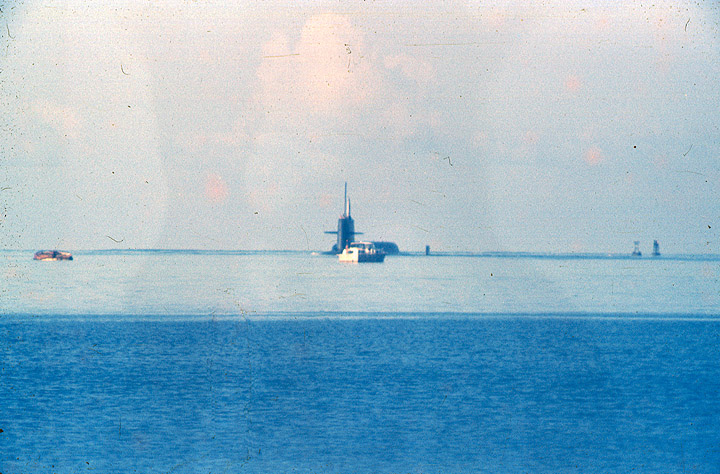 Yes the Boomers. Even while 90%+ of Proteus' personnel are on Orote Point building a city - this boomer has just completed a successful refit - and is sailing for yet another patrol. The few crew left on board Proteus were able to see to it that while not everything the boat might have "liked" to have serviced could be addressed -- essential systems and supplies were taken care of - on time. The boat's crews had to take up much of the slack - so even though they were not directly involved in "Tent City" - it did still have an impact on them as well.
The fall of Saigon had an impact on every taxpayer, as well. Here a large crane is off-loading helicopters, planes, and other equipment...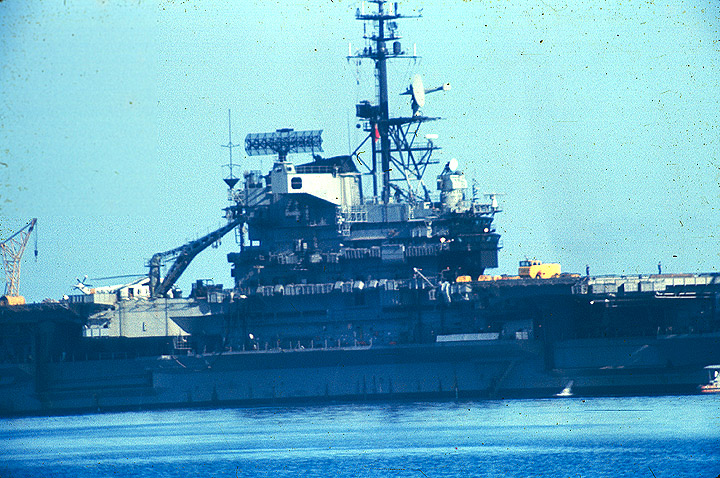 Leaving a now clean deck on the Midway.
A "parking lot" full of aircraft - most off-loaded from USS Midway. Most of these were loaded onto barges - taken out over deep water - and dumped.
Here is one of several barges of off-loaded equipment - this one being many helicopters. Many of these barges were towed / pushed to sea --- out over the deepest part of the Marianas trench - and the contents "swept over the side". An untold number of planes, copters, etc. were dumped at sea - millions and millions of dollars lost.
Table of Contents
---
© 2000, 2006, 2009 & 2011 Common Cents Computers