United States Navy
Submarine Tenders
former USS Proteus AS 19
IX-518 Berthing Barge

---
Displacement
15,000
Converted
1993/4
Length
574' 6"
Converted By
George G. Sharp Inc.
Beam
73' 0"
Class
IX-518
Draft
15'
In Service
1994-1999
Inactivated
9/99
Towed to Reserve Fleet at Suisun, CA
---
After her service as a Tender was over in 1992 - the Navy decided to put her greatest resources to work in another capacity - as a berthing Barge. While such a task is far from glamerous - it is still an honorable service provided with great proficiency and class - as the Proteus always delieverd. As the final chapter in this great ship's history - it's only fitting to include it here to "close the book" for those her served aboard - and even those who received service from this ship.

Stripped of most of her dignity, she served as a "berthing barge" and home away from home for sailor's from other ships whose habitability spaces are being "overhauled" - and consequently - unusable. Able to accommodate even the largest crews from the mighty carriers, she provided shelter, food, personal services --- all the things to be "home" to just over a 1000 of sailors plus officers at a time.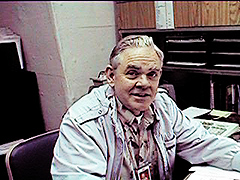 Your tour guide -
and mentor of the "Old Pro" -
Frank Cantrell

In the process of converting her to a berthing barge - all of the topside stuff was removed. The B&A (boat and ammo) cranes were notorious in use: they leaked oil all the time - occasionally a control would malfunction - and they would try to lift themselves - resulting in a lot of damage - in use they had long been a pain in the tail. In their final curtain call - they proved to be no less cantankerous! A tank cleaning company was brought in to remove all the oil in preparation for being removed, and many "experts" were consulted to give an estimate of the crane's weight. What a circus when a floating crane took a strain on the starboard crane! The "experts" estimates had been around 50,000 pounds. Now the floating crane is listing dangerously, oil (the stuff that had already been removed) poured out everywhere; the crane operator's face turned white - and several people saw their Federal careers going up - er - down the drain before their eyes. With everyone holding their breath - the crane operator managed to get the B&A crane over to a waiting barge, and lower it before the floating crane itself needed a crane... A bit more steel was cut off the port crane as a lesson learned. Both of the cranes, or what's left of them were lifted onto a barge, towed one-at-a time out to ex-Sperry, which was moored out in the harbor, and again lifted on board.
The old personel and disbursing offices look much as they did while Proteus was still commissioned.
Dropping down a deck is one of the two Crew's Mess Decks - not much changed.
The Crew's galley is a little tighter than before- as the bake shop has been put into the same space.
Aft of the mess decks (through the Burma passage way). This is how the Machine Shop B-201-E looks today. Where formerly custom machined parts were turned out, now there is a 140-person classroom -that turns out sharp minds, capable of dealing with any shipboard situation.The photographer is standing on the starboard side about frame 83, about where the Band Saw used to be, and just outside of the old R-2 Division Office, which is now a Cook's change room. The podium is sitting in the spot formerly occupied by the Engine Lathe.We were able to salvage all of the machine shop's equipment, except for the Turret Lathe. It went off in pieces. (The Burma passageway is just behind and to the right of the gentlemen standing).
The old "ship's service area"... still is. A new ladder to accomodate traffic better - a larger ship's store. The post office was removed.

More of the ship's service area.

Inside the ship's store space.

The barber shop.

The Ship's Laundry.

Note: the following was written before the IX-518 was still active at Bremmerton. She was finally "deactivated for the last time and towed to Suisun Reserve Fleet -where she is today.

As usual - a huge thanks to Frank Cantrell: For keeping us up to date, great pictures, and watching after the old Pro...
And because Frank is her current "Master", he will have the last word on her current duty and situation:



"Those of us who care for the old Pro take exception that she is serving in a humble way. She is and was and always will be a proud warrior.

Many ex-Proteus sailors won't want to hear this, but AS-19 was an absolute wreck and a total disgrace when we took the vessel from the Navy in 1992. It has cost taxpayers millions of dollars and taken Mr. Fred Freeman and his hardworking George G. Sharp contractor workforce, over five long, hard years to overcome the years of abuse and neglect.

Beneath the coat of white and grey paint you will find modern and refurbished berthing, messing, classroom, office, fitness, and leisure spaces. Machinery and systems are in perfect working order. Unsolicited compliments from our fleet customers tell us that IX-518's crew support facilities are better than most of those aboard the carriers. Think about that for a minute. They are comparing a 54-year old vessel with ships half her age!

I'll go to the mat with any one who says that is a humble accomplishment!

Today's shipyard industrial environment is just as tough on our Sailors today as it was when we were young sea dogs. The ability to install quality of life facilities onboard barges, such as IX-518, located pier side is seennot only as an essential QOL asset, but also a key factor in the success of short duration CV/CVN availabilities. For instance, IX-518's support to USS KITTY HAWK (CV-63), recently contributed in part to the ships monumentalaccomplishments during an aggressive 90 day drydock complex overhaul allowing for her orderly assumption of duties as this country's only forward deployed aircraft carrier.

When I consider all the young Sailors who walk across the old Pro's brow I cannot help but wonder how many will be inspired to emulate the honor, the accomplishment, the patriotism and the devotion to duty reflected in this old tender's service to the United States.

Can we not give proper tribute to Proteus's present accomplishments?"

Sincerely,
Frank



Webmaster's comments: On the subject of humble service: I stand corrected! - I'm also prompted to add: When we frist received the above photo of the "oldPro's" stern / quarterdeck - it occurred to me how many thousands of Sailors (including myself) had crossed that quarterdeck over the past 55 years... I had added a comment to that photo - then thought better of it - and removed it. But in view of Frank's comments above - I realize that all of us who have served aboard that ship share in it's heritage - so the comment - really a question is asked: We can't help but wonder about those young sailors crossing that Quarter Deck today - do they understand the hard lessons of WWII --- do they give any thought to the turmoil and apprehension of those early days of the cold war that boiled over into the Korean War --- Have they any notion of the pain and conflict of the Viet Nam War... Do they have any sense of the 55 years of service - of those sailors before them - in making a ship's motto reality: Prepared Productive Precise --- the 55 years of heritage beneath their feet?

---

Final chapter: IX 518 (Ex) USS Proteus has been sent to the scrap yard - so her story is now closed.

---

Last goodbye - USS Proteus at ESCO Marine, Inc., Brownsville, Texas. Thanks to Michael Martin for this last look.

---

AS 20 USS Otus

---

Table of Ships
Go to TenderTale Main Page
© 1997, 2005, 2007 Common Cents Computers