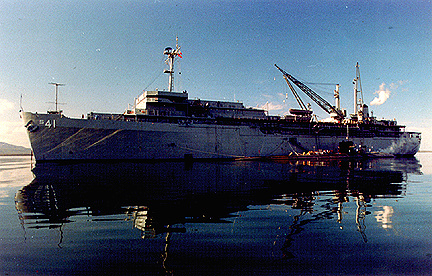 On two occasions during 1989, MCKEE demonstrated remote site IMA capabilities while anchored out.
MCKEE provides services for submarines as well as surface ships while deployed to the Persian Gulf in 1991.
MCKEE Sailors man the rails as she begins the return trip home from her final deployment in 1998.
Sailors of the McKee...
This picture is appropriate to the fact that the sun is setting permanently on the Submarine Tender Fleet. With the inactivation of the McKee... only two remain in active service.
Our thanks to
Captain Jablonski
and his Administration staff for providing the McKee's history and many great pictures.